ONLINE MARKETING >> Targeted Search Engine Advertisement
Apart from our search engine optimization and directory submission services, we offer to list your website in a keyword-based advertising program of Google, known as Google Adwords. Rather than choosing a pay per click search engine , you pay for a featured listing to be placed at the top of Google search inquiries. This gives you guaranteed positioning for the keywords and phrases you decide. When a surfer enters one of the words that you have paid for, your featured ad will be displayed against the search result. Statistically Google Adword ads receive a 4 times greater click through rate than traditional banner ads.
Here is an illustration of your proposed Google Adword ad in Google. The arrow in the image shows how your website will be included in the featured listings of Google.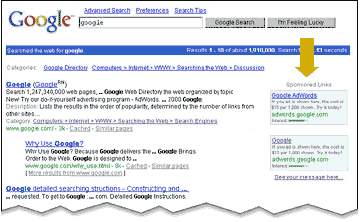 OUR SERVICES
We will utilize up to 30 keywords that are relevant to the content of your site.
Upon approval of ad heading and description / key phrase, we will arrange the advertisement into the Google system.
In specified cases, the price for our service also includes the initial 10,000 targeted impressions.
We also offer web promotion services such as banner ad campaigns, email campaigns and link building services.