ENTERPRISE INFORMATION PORTAL SOLUTIONS AND CONTENT MANAGEMENT SYSTEMS
The Need
Information overload is a burden many knowledge workers share. Finding the right information isnít a core competency for enterprises and yet employees are faced with wading through irrelevant material to find the content they really need. Add in the problem of content duplication and it is hardly surprising that getting the job right is a big challenge.
Where is the wisdom we have lost in knowledge? Where is the knowledge we have lost in information?
-T.S. Eliot
Todayís employees know that their organization depends on their ability to collect, manage and deliver the right information to the right person at the right time. With integrated content management, you can achieve gains in three critical areas:
Productivity
Any business function can become more efficient when the data it needs to perform that function is readily accessible and usable.
Efficiency
With integrated content management, your employees will be able to seamlessly access, retrieve and process electronic data, versus spending time on manual searches or other time-consuming, outdated processes.
Compliance and Uniformity
By employing a consistent set of business practices across your organization; you can better reuse resources, improve collaboration on business processes, make quality and process improvements more easily and streamline day-to-day operations.
Business Objectives
MachroTech understands that following are some of the initiatives and their expected results most enterprise wishes to achieve.
| | |
| --- | --- |
| Initiatives: | Expected Results: |
| Eliminate Repetitive Efforts | Reduced Costs, Higher Productivity |
| Eliminate Ad hoc and non standard information management practices | Time and Cost Savings through content reuse and improved knowledge management and transfer |
| Easy Information Sharing | Increased Efficiency and User Adoption |
| Solicit Feedback and knowledge management | Improved Quality and Processes |
| Empower users to contribute and collaborate on business and technology content to fuel innovation and new technology development | Faster time to market and increased competitiveness |
| Improve inter and intra enterprise communication | Better resource utilization and higher ROI |
Enterprise Information Portal
The portal is a place where information is organized in a logical and useful manner. A portal can be used to capture, manage, add intelligence, and distribute business critical content to enterprise portal applications accessed by a variety of constituents including customers, employees, partners and suppliers.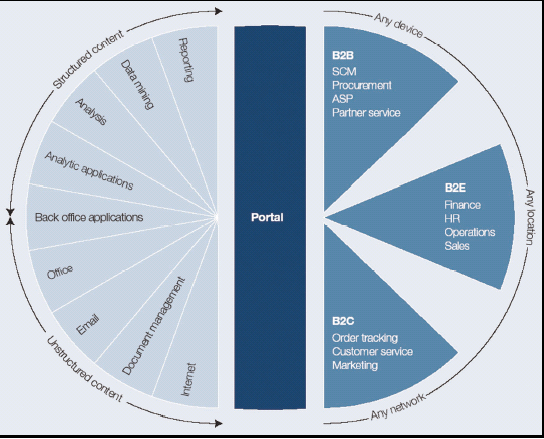 An Enterprise Information Portal acts as a single point of access to disparate information sources throughout the enterprise.
-Source: Datamonitor
We strive to provide enterprises with a true information portal and content management applications. Every portal and content management and collaboration solution is designed addressing the following five items in mind:
Content
Process
Culture
Integration
Security
We not only provide content management, knowledge directory and collaboration tools, but our application architecture uses technologies that make them extremely scalable and flexible. Our ecommerce solutions can be easily extended to deliver other enterprise applications such as employee services, sales support, customer experience, R&D collaboration, supply chain management, customer relationship management, etc. MachroTech will strive to improve document management, collaboration, and sharing of critical corporate functions across the enterprise. These solutions raise the quality and effectiveness of core business processes such as new service introduction, customer account management, and project management.
We understand that developing documents in a secure, collaborative and controlled process is an organizational challenge. Our Collaborative Document Management Solutions solve the dual challenge of developing and managing documents within the enterprise by providing a "virtual" work area for collaboration to enable teams, projects and divisions of the distributed and mobile workforce.
Industry analyst IDC estimates that Fortune 500 companies lose $12 billion each year because they are unable to adequately manage and exploit unstructured content. MachroTech portal solutions provide teams and groups with the ability to share and leverage the knowledge contained within these business and technology documents in a secure, scalable manner thereby ensuring that the right document is available to the right person or team and at the right time, all within from a simple Internet browser.
Solution Benefits
Our solutions power critical organizational processes such as:
New service or program introduction
Content Sharing and Feedback from Sales and Support teams (Direct and Field Service Reps, Agents)
Project management and delivery
Services development and delivery
Information Portal and Collaborative Document Management Solutions deliver leading collaboration capabilities, document management functionality and workflow automation capabilities atop a highly scalable and secure Internet platform.
Contact Us today to find out more or to get started