E-COMMERCE QUICK FACTS

E-Commerce Market Size and Trends
Online Population and Internet Commerce Market Size
The increase and penetration of online use in the US increases the potential market size for businesses on an annual basis. A large share of the expected growth in Internet commerce can be attributed to the increase in the online population:
US online population estimated to increase nearly 50%, from 142 million in 2001 to 211 million by 2006 (CAGR of 8.2%).
U.S. online retail sales will grow from $40.4 billion in 2002 to an estimated $112.5 billion in 2006 (see Figure 6 below).
There are 2.3 million small companies in the U.S.; with 16% of these in the retail trade and 60% of all small companies have an online presence - potential market size for our service is upwards of 200,000 companies.
Online shopping population will grow from 66 million in 2001 to 132 million 2006 (see Figure 7 below).
Annual spending per buyer will increase from $457 in 2001 to $784 in 2006.
Figure 1 U.S. Online Retail Sales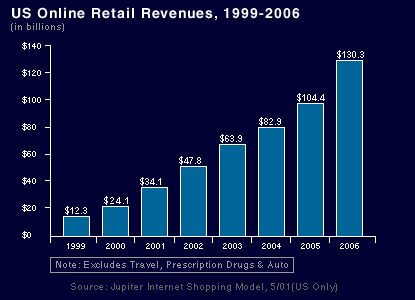 Note: Excludes sales of travel products, automobiles, and prescription drugs.
Source: Jupiter Internet Shopping Model, 10/01 (US only)
Figure 2 U.S. Online Shopping Population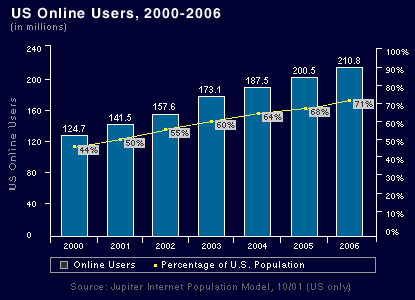 Source: Jupiter Internet Shopping Model, 10/01 (US only)
© 2002 Jupiter Media Metrix, Inc.